In this Franchise Wire Live podcast hosted by Red Boswell, the President of The International Franchise Professionals Group (also known as IFPG), and featuring Mark Siebert, CEO of iFranchise Group, two franchising experts discuss the state of the franchise industry and how well it's faring in certain industry categories.
New concepts are coming to the market at a record pace, lending is solid, and rollovers are very common, with the strong stock market and leases that are attractive in most markets. Unemployment is fueling entrepreneurship as well. They also discuss top mistakes emerging franchisors should avoid going into 2021.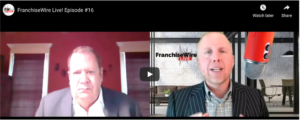 To view the podcast, click here.