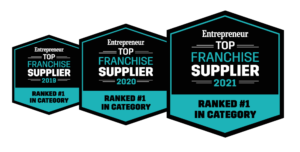 iFranchise Group is Entrepreneur's Top Franchise Consulting and Development Supplier for 2019, 2020 & 2021.
As the #1 Supplier in the Franchise Consulting / Development category according to Entrepreneur, iFranchise Group brings a wealth of franchise expertise to the table, backed by decades of combined experience working with hundreds of franchise systems.
Proud to be #1.  Entrepreneur's inaugural ranking for franchise suppliers was in 2018, and 2019 marked the first time the Franchise Consulting / Development category was included, with iFranchise Group securing the top position that year as well as the following two!
The independent survey of over 750 franchisors sought to identify suppliers to the franchise community who were then scored based on satisfaction ratings. Companies surveyed ranged from emerging franchisors to top Franchise 500 brands with thousands of locations.
iFranchise Group provides highly-customized franchise consulting, development, operations and marketing solutions across a wide range of industries.
The hands-on, no-nonsense approach of the iFranchise Group comes from the real-world experience of its team members. Our recommendations aren't based on what we've learned from textbooks but from decades of experience building some of the world's most successful franchise companies.
Read the press releases about this recognition!
Contact us today to learn more about the better way to franchise your business. WITH A PROVEN INDUSTRY LEADER.
Franchise Services We Offer:
Franchise Development and Implementation
Franchise Management Training
Franchise Sales Improvement
Franchise Best Practice Audits
Mystery Shop Your Franchise Sales Force
International Franchise Growth
Franchise Expansion to the U.S.
Dealer Conversion & Expansion Strategies
See all Franchise Services offered by the iFranchise Group.
Client Testimonials
"When we were thinking of launching our second brand, it was no surprise that the first call I made was to iFranchise and we couldn't be more pleased. They've been great to work with, providing great service, high quality product and meeting our timelines."
– Shelly Sun, CEO and Co-Founder Brightstar Care
"I personally believe that the iFranchise Group has assembled the single most knowledgeable and experienced team in franchise consulting today."
– Scot Crain, Auntie Anne's Hand-Rolled Soft Pretzels
"The iFranchise Group has been with us from the beginning of our international development. Today, we have branded stores in 54 countries. The iFranchise Group was instrumental in that growth."
– Dan Olsen, Vice President, International, Ace Hardware
View all client testimonials.