Are you looking for a cost-effective means of delivering your Operations Manual in an online environment? Look up! We just might have the solution you've been searching for… SkyManual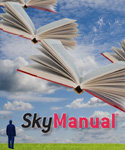 The iFranchise Group's SkyManual platform enables you to host your manual in an online and custom-branded environment that your franchisees and their employees are able to access from any web-enabled device, including tablets and smartphones. This allows you to get your manual to the people who need it, when they need it, and how they need it in a secure manner.
Users enter the SkyManual site by logging in with their own distinct password. This password will enable users to only have access to the material you deem necessary for them to perform their jobs. SkyManual is easy to navigate. Users can find information quickly and easily through the platform's built-in search function or by clicking links which will direct them to the information they are seeking, either within the manual or via an external source.
SkyManual has been engineered to be simple to administer. Tasks such as adding new users, deleting old users, and revising the manual can be carried out in a few easy steps. By keeping this information updated, you can ensure that only approved users can access your manual and receive the most up-to-date information.
For a cost-effective means of hosting your manual in an online environment, just look up!…to SkyManual.
Complete the form to the right of this page to request additional information about online storage, delivery, and management of your operations manual using the SkyManual platform.