Our expert Franchise Consultants explain how the post COVID-19 shutdown period will mark a dramatic resurgence in franchising activity in the restaurant industry.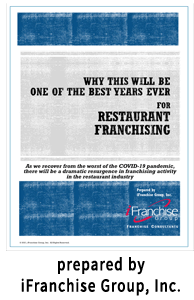 TOPICS INCLUDE:
• Why a Dramatic Rise in Franchise Sales is Predicted as We Recover from the COVID-19 Pandemic.
• The Key Factors Factor Impacting Increased Franchise Sales for Restaurants.
• What Restaurants Should Take Advantage of Right Now.
Fill Out the Form to Download the Free Whitepaper Now
iFranchise Group Client Testimonials
"The iFranchise Group helped us get our franchised business launched from A-Z. Some of the advice we got early on on how to set up our program and how to avoid common pitfalls around setting up a franchise program, years later, have proven to be extremely valuable and worth every penny we paid for the advice."
– David Pazgan CEO, 101 Mobility
"We couldn't be more pleased with the way iFranchise Group has worked with us and built out a framework to execute on and they are very much involved with our company today."
– Brian Mattingly, President and CEO, Welcomemat Services
"The iFranchise Group began their involvement with us with an audit of our existing operations. We implemented their recommendations, and our franchise sales doubled from 80 to 162 in the first year, and rose again to over 200 in the following year."
– Craig Donaldson, President, Chem-Dry
View all client testimonials.