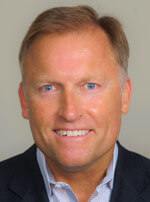 Consultor Senior de Franquicias
iFranchise Group, Inc.
David Omholt es un Ejecutivo de Franquicias Certificado (CFE) y frecuentemente habla en las conferencias de universidades y programas de televisión sobre las franquicias, el espíritu empresarial, y el ser dueño de los pequeños negocios. Los miembros de la Asociación Internacional de Franquicias (IFA) lo han nombrado uno de los mejores consultores de franquicias en el país. Tiene una extensa experiencia en el sector privado y el público, al igual que lo internacional.
Sr. Omholt ha sido un licenciante y licenciado y ofrece perspectivas balanceadas del mundo real a sus clientes. Además de su trabajo para iFranchise Group, el Sr. Omholt sirve como fundador y presidente de The Entrepreneur Authority, una firma líder de corredor de franquicias y aliada estratégica de iFranchise Group.
Anteriormente a ser empresario, el Sr. Omholt fue un ejecutivo para Accenture (anteriormente Andersen Consulting) en el sector de prácticas de comercio minoristas. Durante su tiempo con Accenture, el Sr. Omholt consultó a muchas de las compañías que forman el Global 500, incluyendo a: Best Buy, Eddie Bauer, Eurocard/GZS, JC Penney, Kroger, Meijer, Radio Shack, Sears Roebuck, Sears Canadá, Sears México, Walgreens y otras. Algunos de sus proyectos recibieron premios globales por los cambios y los éxitos brindados a sus clientes. Como Consultor Senior para iFranchise Group, ha asesorado a franquicias como Charles Shcwab, Checkers, Denny's, Potbelly Sandwich Works y otras, al igual que nuevas franquicias en numerosas industrias a nivel doméstico e internacional gracias a su fluidez en el idioma español.
Un ávido escritor, el Sr. Omholt ha contribuido para el libro Achieving Quality Performance, con consejos en como el trabajo en equipo, la innovación y la calidad lleva a un mejor desempeño en el negocio. Es frecuentemente nombrado en varias publicaciones sobre las tendencias y cuestiones de las franquicias. Sr. Omholt ha dado conferencias a estudiantes ya graduados y cursantes en Duke University, Notre Dame, Purdue University, University of Dallas y otras universidades.
El Sr. Omholt se graduó de Krannert School of Management de Purdue y fue recientemente nombrado por el prestigioso Foro Ejecutivo de Krannet. Ha obtenido los certificados del programa de Franchise Management de la University of Texas – El Paso y el Fast Track M.B.A. en Franchise Management de H. Wayne Huizenga School of Business and Entrepreneurship en NOVA Southeastern University.