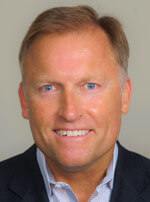 Senior Advisor, Dallas, TX
iFranchise Group, Inc.
David Omholt is a Certified Franchise Executive (CFE) and the Senior Franchise Advisor of iFranchise Group's Dallas, TX office. Mr. Omholt specializes in franchise development and marketing strategies for businesses in the greater Dallas/Fort Worth area, regionally throughout the Southwest and beyond. He is a frequent speaker at universities, conferences and talk shows on franchising, entrepreneurship and small business ownership. Members of the International Franchise Association (IFA) have named Mr. Omholt one of the top franchise consultants in the country. He has extensive franchise consulting experience in both the private and public sectors, as well as internationally. Uniquely, Mr. Omholt has been both a Licensor and Licensee and offers a balanced, real-world perspective to his clients. In addition to his work for the iFranchise Group, Mr. Omholt also serves as founder and president of The Entrepreneur Authority, a leading franchise brokerage firm and a strategic partner of the iFranchise Group.
Prior to becoming an entrepreneur, Mr. Omholt was an executive with Accenture (formerly Andersen Consulting) in their retail industry consulting practice. During his tenure with Accenture, Mr. Omholt consulted for many of the Global 500 companies, including: Best Buy, Eddie Bauer, Eurocard/GZS, JC Penney, Kroger, Meijer, Radio Shack, Sears Roebuck, Sears Canada, Sears Mexico, Walgreens and others. Some of Mr. Omholt's projects received global awards for the breakthrough success and turnaround brought to the client. As a Senior Consultant of iFranchise Group, he has consulted for major franchisors like Charles Schwab, Checkers, Denny's, Potbelly Sandwich Works, and others, as well as start-up franchisors across numerous industry segments domestically and internationally due to his fluency in Spanish.
An avid writer, Mr. Omholt was a contributing author to Achieving Quality Performance, a book which outlines how improved teamwork, innovation and quality lead to overall enhanced business performance. He is often quoted in various publications on franchising trends and matters. Mr. Omholt has lectured at Duke University, Notre Dame, Purdue University, University of Dallas, and others to both undergraduate and graduate students.
Mr. Omholt graduated from Purdue's Krannert School of Management and was recently named to the prestigious Krannert Executive Forum. He has also completed both the Franchise Management Certificate program at the University of Texas at El Paso, and the Fast Track MBA in Franchise Management at the H. Wayne Huizenga School of Business and Entrepreneurship at NOVA Southeastern University.