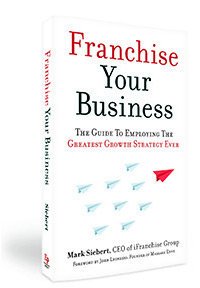 Thank you for reading about franchising and iFranchise Group in Modern Restaurant Management.
Fill Out the Form to Request a Free Excerpt from the Book
…and find out where you can purchase the complete book.
iFranchise Group CEO and long-time franchise consultant Mark Siebert provides a detailed guide to franchising.
You'll learn about:
– Analyzing your business' franchisability
– The advantages and disadvantages of franchising
– Developing an effective business growth plan
– Evaluating risk
– Legal considerations
– Franchise marketing plans, lead generation, and branding
– The all-important relationship between franchisee and franchisor